We're excited to have you at the library this week. With so many great programs happening, there's something for everyone. We have just a sampling of programs below; be sure to go to our online events calendar for a full listing of programs. You can also sign up for our email newsletter, where you'll learn more about events and programs, book suggestions, and more.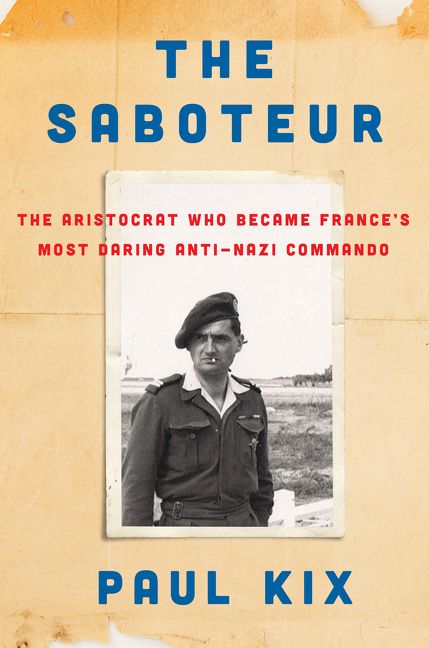 The DMPL Podcast is back from a holiday break tomorrow. Iowa native and writer Paul Kix is the author of The Saboteur. The book tells the real-life story of Robert de La Rochefoucauld, a French aristocrat-turned-French Resistance fighter in WWII. La Rochefoucauld's story jumps off the page - he escaped from Nazi confinement multiple times - and Kix talks about not just discovering his life, but the time and effort it took to research the story.
Later on this week, we'll be looking at the most anticipated books of the year - nonfiction on Wednesday, and fiction on Friday.
In case you missed it, we talked all about New Year's Resolutions last week. We shared our staff's reading resolutions, and we gave you a list of books that will help you stay motivated to keep your New Year's Resolutions.
Foundation Directory Online Workshop
Wednesday, January 16, 1:00 PM, Central Library
Find funders for your nonprofit. Learn to use the Des Moines Public Library's comprehensive funding research tool, Foundation Directory Online. You'll learn to search for grants and related resources from nearly one million grant opportunities. Register by calling 283-4152 ext. 3 or clicking here.
Instrument Petting Zoo
Thursday, January 17, 11:15 AM, North Side Library
Come to a petting zoo that makes lots of noise but sheds no fur. Children ages 3 and up are invited to play a violin and cello and learn more about classical instruments with help from the Des Moines Symphony. Registration is required – register by calling 283-4152 ext. 3 or clicking here.
Kid Inventors Day/El Día de Niños Inventores
Thursday, January 17, 4:00 PM, East Side Library
Come celebrate Kid Inventor's Day with some bilingual fun at the East Side Library. Build a rollercoaster, a Lego tower, a pillow fort, or a bridge!
Vengan a celebrar el Día de Niños Inventores con un poco de diversión bilingüe en la biblioteca de East Side! Construyen una montana rusa, una torre de Legos, una fuerte de almohadas, o un Puente!
Cocoa and Canvas
Friday, January 18, 4:00 PM, Central Library
Paint a winter scene while sipping cocoa from a D.I.Y hot chocolate bar. Kids will get their own mini canvas and follow a guided step-by-step painting process or they can go freestyle and learn some wild techniques. As supplies last.
Dinosaur Party
Friday, January 18, 4:00 PM, Franklin Avenue Library
ROAR! Come to the land before time and learn about the creatures that once roamed the world. We'll have activities, games, and crafts that are all about dinosaurs, big and small. For ages 3-8 years old.
Furry Tales
Saturday, January 19, 1:00 PM, Forest Avenue Library
Kids! Stop by Rosie's Forest at Forest Avenue Library and read a book to Jersey, the reading therapy dog! Reading to Jersey is a great way to build reading/language skills while making a furry friend!
Forest Kids Flicks: Monsters, Inc.
Saturday, January 19, 2:00 PM, Forest Avenue Library
Boo! When a toddler arrives in Monstropolis, it's up to monsters Mike and Sully (voiced by Billy Crystal and John Goodman) to get her back to the human world before other monsters notice. Will they succeed? Come to Forest Avenue Library and find out!
BONUS DAY, BONUS EVENT:
Martin Luther King, Jr. Day Program
Monday, January 21, 4:00 PM, Forest Avenue Library
Join the Forest Avenue Library and the Des Moines community as we honor the memory of Dr. Martin Luther King, Jr. Des Moines Civil & Human Rights Director Joshua V. Barr will be the keynote speaker. Doors open at 3:30 PM, and there will be refreshments following the program.
NOTE: All library branches will be closed for the Martin Luther King, Jr. holiday. The Forest Avenue Library will be open only for the program, beginning at 3:30 PM.